When the ever-popular and iconic Ford Bronco went out of production in 1996, it left a gaping hole in the heart of the rugged 4×4, SUV market. Sure, there are plenty of other SUVs out there – but the Bronco holds a special place in the field. 
1. At Long Last
Apparently, Ford realized that too. In 2017, they announced the Bronco's triumphant return at the North American International Auto Show in Ford's home city – the Motor City of Detroit, Michigan. Ford also highlighted with pride that this will indeed be a truly American-made vehicle.

To make the announcement there makes sense; after all, we now know the Bronco will be manufactured at the Michigan Assembly Plant. This facility, which also produces the Ford Ranger, cost a cool $850 million, according to Top Speed. It is also the site of the original Bronco plant, incidentally.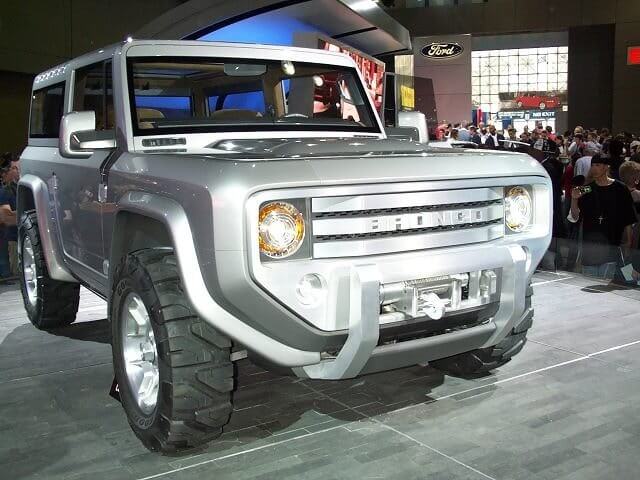 When can we see it, or better yet, buy the classic Bronco, reborn for the 2020s? It has been said that we will see it in mid-2019, which has now passed, or before the year is out. But whenever it is, we can be fairly certain it will be soon and the return is highly anticipated.
2. What We Think the 2021 Bronco's Engine Will Be
While nothing is absolute at this point, since we've not seen an actual finished Bronco or the exact stats, this is based on what we've been told and seen thus far. Since the Bronco and Ranger share a production facility created just for these vehicles, it's not unreasonable to assume they'll share a version of the Ranger's 2.3-liter EcoBoost inline-4, which delivers 270 horsepower and 310 lb-ft of torque.

Others have speculated from the data we do have, that it's likely to have a 4 or 6-cylinder turbocharged engine with a 10-speed automatic transmission. Specifically, some have stated they expect one option to be the 2.7-liter EcoBoost V6 with horsepower in the 325 to 335 range, and torque of 380 to 400 lb-ft. All expect it to have a 10-speed automatic transmission.  However, there are some auto industry insiders who speculate that it could have an option for a 7-speed manual transmission to compete head-to-head with the Jeep Wrangler.
Other things we can assume is that there will be a hybrid version, based on the statements released from Ford about the future of hybrid SUVs in their line up. Also, it would be a safe bet that a diesel version will also be available, as it will be marketed globally.
3. The 2021 Bronco Body
The new Ford Bronco shares a platform and facility with the Ranger, so some basics can be assumed here. Other conjecture is based on data actually shared by Ford. 

According to Fordauthority.com, the 2020 Bronco will be a 5-door, mid-sized SUV. It will probably fall in size between the Explorer and Expedition. Teaser photos show it has a boxy, classic build and will definitely lean towards a retro feel. It's anticipated that it will have both a 2 door and 4-door option. It's described as having a front, both hood and front end, that are flat and angular, and there's a rear spare tire. Apparently, Ford is going after those hankering for the classic Bronco of days gone by, combined with today's best technology gains.
The doors and roof will be removable. There is some speculation that there will be some kind of roof that will come into play when the hardtop roof is taken off. Perhaps a roll-out mesh roof, or a soft cloth top that will be rather tent-like. This would make it what it clearly seems to be aspiring towards; the perfect off-roading vehicle to compete against Jeep's most popular versions.

It's also said that there will be a Bronco pick-up style vehicle meant to square off against the new Jeep Gladiator.
4. 2021 Bronco Basics
It's pretty much taken for fact that the new 2020 Ford Bronco will have a solid axle, and it apparently will be built by the same manufacturer that supplies axles to Jeep.
 
The body will be on the same platform as used by the Ranger, Everest and Troller (Australian). This T6 architecture has a short wheelbase, which makes sense as the Bronco was not an oversized SUV ever. 

Using this T6 design means using a platform that gives makers a flexible option with other vehicles since it is a body on frame. That means different body styles can be used with the same foundation for the vehicles. That's cost-saving also since it will use less aluminum than say is necessary for the F-series platform, according to Topspeed.com.

It's expected that there will be four, possibly five, trim levels. The 2020 Ford Bronco price for the base would start off in the $32,000 range, and the other models would include an XLT, a Limited, a Platinum and possibly a true off-roading version at the top of the spectrum. The base model would be the Bronco.
We believe the new 2020 Bronco will have two rows of seating for 5 people, with rear seats that have a split-folding function for better cargo management and flexibility.

It will be designed to have the off-roading capability and expected to compete directly with SUVs on the market already, like the Toyota 4Runner but mostly the Jeep Wrangler.

Ford has certainly whetted everyone's appetite and fueled their nostalgia for the rugged classic Ford Bronco, and all the rumors and whisperings will soon be silenced when the 2020 Ford Bronco finally hits the showrooms and streets.